Saturday Jul 16, 2022
Jesus Suffered the Punishment we Deserved: The Story of our Great Redemption #7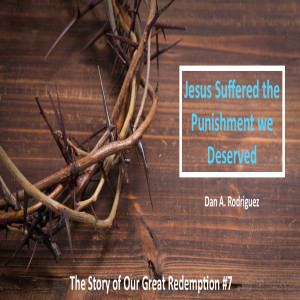 Jesus came and suffered in our place the punishment that was only our own. Punishment, wrath, destruction, and hell were our legacy due to Adam and Eve's transgression, and also because we all sinned. We were due wrath and punishment, but Jesus suffered to set us free from the consequences of sin and death. We look at these truths in this podcast. We are building to a crescendo concerning redemption, and when we reach it, it will revolutionize your life if you will receive it and act on it.
I warn you that religious ideas that are limiting and watering down what Jesus did for us will die in the process. The golden calf of religiosity with a form of godliness that denies the power of redemption will be ground to powder. So, get ready to be shocked right out of religion and into Jesus our Redeemer. 
Be mightily blessed through the exposition of the anointed Word!
Download the book that was the basis for this series: The Story of our Great Redemption- Beyond Human Imagination. It's free! The book title is the link to download the book. FYI: I cover details in this series that are not in my book.