Friday Sep 02, 2022
The Unexplored Emphasis in Scripture on the Soul and Spirit of Jesus During His Sacrifice- The Story of our Great Redemption #23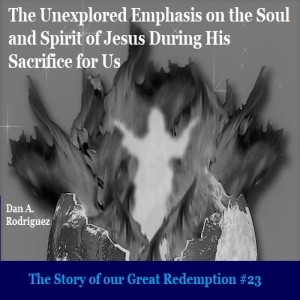 Amazingly, little to no emphasis has been placed on the sufferings of the soul and spirit of Jesus on the cross and in hell. Some deny this truth. Peter preaches this truth by quoting Psalms 16:10 in the first sermon preached after the Holy Spirit was poured out on the day of Pentecost. (See Acts 2:24-31.) The suffering of the soul of Jesus (the soul's innermost part being the spirit) is taught three times in Isaiah 53:10, 11, and 12; "You (God) make His soul was an offering for sin", "He (God) shall see the labor of His soul", and "He poured out His soul unto death". What? His Soul was an offering for sin? I thought His body and blood were the offering for sin? THEY WERE, but so were the soul and spirit because Jesus' sacrifice was the sacrifice of ALL of Himself in spirit, soul, body, blood and all!!! Yet to hear some preachers, the sin offering was ONLY His blood and body. Wrong! There was more involved. Ignorance has been HUGE in this area of the sacrifice of Jesus. With the anointing of the Holy Spirit and through the Word of God, we bring it back into focus.
"Oh, but Jesus taught us in the Lord's Supper to only emphasize the body and the blood for the forgiveness of sins," someone said attempting a rebuttal. That's only partially right. The emphasis of Jesus was on His body and the New Covenant in His blood. That included EVERYTHING He suffered for us and EVERYTHING He provided for us, spirit, soul, body, and in EVERY realm of life and the world to come (eternity). Nothing was excluded, in His sacrifice or in His mighty provision.
If you have not done so, please study the first 22 podcasts to get a clearer understanding of this life-changing teaching. That way you get it in context. Be mightily blessed with the Word and the Spirit of the Lord through this podcast!
Download the free book that was the basis for most of this study, "The Story of our Great Redemption: Beyond Human Imagination!" That's the link to get the free 194-page book. I've published five different versions on this subject since 1977. The latest 2013 version in Spanish, "Tres Días y Tres Noches en el Corazón de la Tierra" is 290 pages long. Obviously, the Lord taught me a few more things from His Word. That is the most complete version I have published. In its pages are many of the extra things I brought out in these podcasts that were not in previous versions. Get the free "Tres Días..." PDF here. Glory to God!